Imagine being able to enjoy those warm summer evenings outside - mosquito free.  With a properly screened patio, porch, or enclosure, you can enjoy every beautiful moment in screened comfort.  A screen porch or patio brings the beauty and feel of the outdoors directly into your home without the unwanted bugs, mosquitoes, and outdoor debris that carries on the breeze.  A screened porch or patio is one of the least expensive and most enjoyable ways of increasing your livable home's square footage.  With the increase in popularity of outdoor living spaces, this is the perfect way to make your outdoor living space clean and bug-free.
As a full-service window screen repair and replacement company, we can both fix your old worn-out screens and turn your existing porch or patio into a fully screened outdoor living space.   As Minnesota's premier screen company, we can - and do - do it all!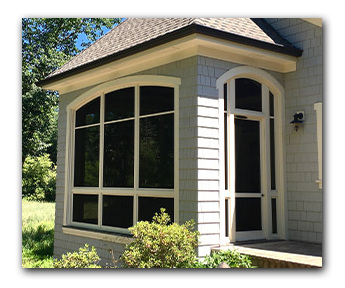 Porch & Patio repair and rescreening
Do your porch or patio screens need a face lift?  Whether you're looking for a porch or patio screen replacement or repair, it's just a quick and easy fix when done by the Screen Guy. We make it our priority to help you find the best solution at an affordable price.  Our work is always 100% Guaranteed for quality and craftsmanship.  Contact us today for a free, no-obligation quote!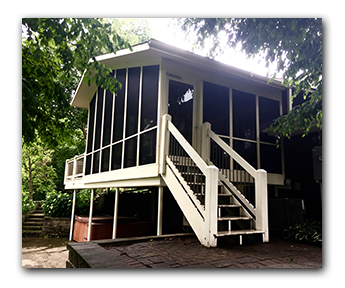 Custom Porch & Patio Enclosures
If you'd like to turn your porch or patio into a beautiful extension of your living space, we can help make your dreams a reality.  Let cool breezes in and keep the bugs and wet weather out with an enclosed porch or patio.  We custom manufacture screens on-site so we can provide you with both a perfect fit and the ultimate customer experience.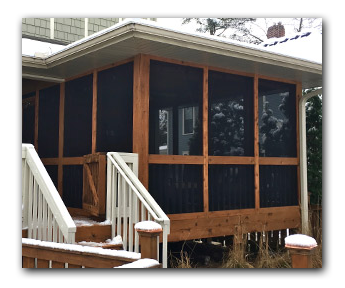 Porch & Patio winterization
Having a porch or patio is great when the weather is nice, but what do you do when temperatures start to drop?  If your porch or patio is only prepped for warm months, it can end up getting damaged during the fall and winter.  Our removable vinyl panel inserts for the winter months will make a big difference in your home's winter heating.
Check out our helpful article on how to properly clean and store your window screens during the winter months.
Porch and Patio Screen Experts
Let's face it - our summer season is short! Don't wait any longer to make sure you can enjoy your outdoor time as long and as much as possible.
★★★★★ "We've lived with a drafty front porch for too many years. This past Fall, Alex designed and installed (easily) removable, reusable custom storm inserts for our 12 porch windows. They blend in perfectly with our existing windows. The service was top-notch: he was professional, had expertise with non-standard windows, and was always on-time, on-budget, and efficient in his work. The pricing is fair, and will pay for itself--our heat bill went down by $100/month, and were able to comfortably use our porch all winter for the first time, even on the coldest days. We're eager to add seasonal storms to our back screened porch, and will definitely hire The Screen Guy again." - Nan