The Screen Guy strives to offer the highest quality on-site repairs of window, door, porch and patio screens, custom screens, screen doors, and much more! Our goal is to provide hassle-free, superior service that surpasses the expectations of our customers when it comes to both quality and price.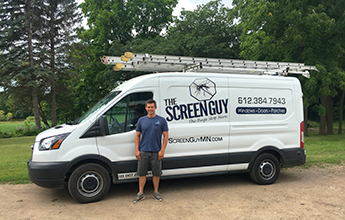 You know you're in good hands when you call the Screen Guy. With over 13 years of experience in fixing screens and building and rescreening patios, porches and pool enclosures, Alex has proven time and again to be the metro area's screen expert. As a teenager in Florida, Alex worked closely under the tutelage of a seasoned screen professional. It was there where he learned and perfected his craft.
Tens of thousands of screens and thousands of patio and porch enclosures later, Alex is serving his friends and neighbors in the metro area where he lives with his wife and young children. When asked about what he can attribute his company's rapid growth and stellar reputation to, he simply answers, "We pay close attention to detail, complete our projects in a timely manner, and always guarantee our work."
Customer Reviews
★★★★★
"Great job on the screen! Finally we have a quality screen that fits right and works smoothly. It was so nice to have the screen custom made on site to make sure it fit right."
- Mark J.